– Written by Sylvia Arotin
The biggest part of Montessori at Home is getting children involved in the day to day activities. These practical life activities form the foundation of Montessori learning and provide a rich platform for children to thrive. Essentially they just want to do what we do and it is our job to allow them and see them as capable and contributing members of the family.
One of those activities includes self-care and setting up a space to allow your child access to complete certain daily routines independently like washing hands, brushing their teeth, grooming themselves and learning to dress themselves.
FREE Visual Routine Printables to encourage independence in daily routines. ?
Many Montessori benefits come from letting children explore in a self-directed way that prioritizes sensory exploration. For this reason, a Montessori self–care station is so important. Creating independence in everyday tasks is key to seeing these Montessori benefits in your toddler. – This Toddler Life
When setting up a self-care station OR any practical life activity, all of the materials should be done with child sized instruments & accessible to them (so in reach), so they are able to succeed without much assistance. This builds children's self-confidence and independence.
We recently came across this AWESOME self-care sink for little ones to be independent in the bathroom. It's a 3 in one!!! Delta Children MySize 3-in-1 Convertible Sink, Step Stool & Bath Toy. It's narrow, will fit in really small places, the top can be removed and attached to the bathtub as well! The base has a stool – I am impressed! BACK IN STOCK JUNE 26, 2020!!
However don't get too caught up in setting up a PINTEREST perfect area, down below I have some ideas for people to use what they have to do the same thing!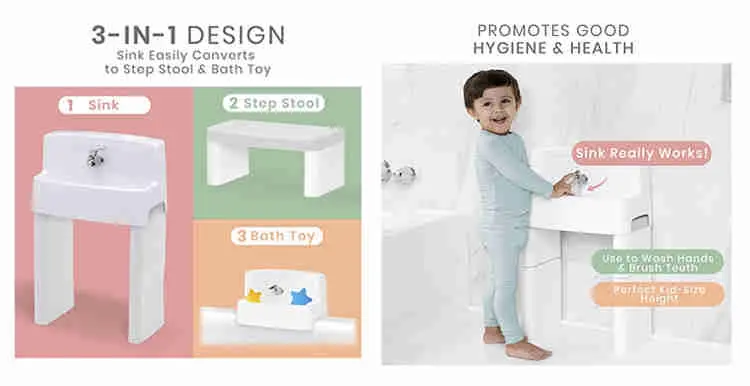 Some examples of how this sink have been used to create Montessori self-care stations…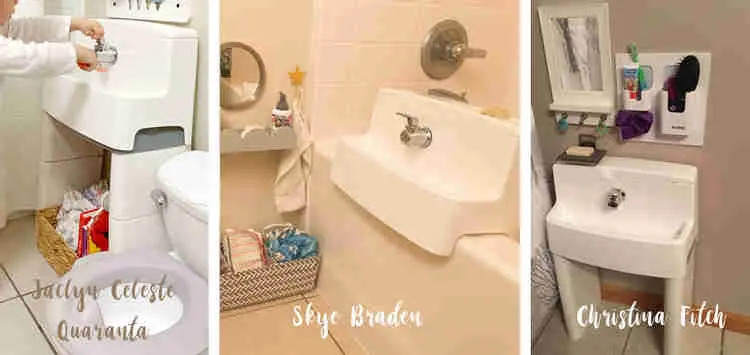 BUT… This sink isn't available everywhere ? and for those who can't get the 3-in-1 self care sink at the moment, we have some options for you!
You can always use a 2 step stool with a nice wide base – I got this from Baby Kingdom (Australia), it makes a great and very stable 2 step stool to use in your existing bathroom sink. (Your child can use your current sink as long as they can access their materials independently).

You can set up a self care hand washing or teeth brushing station using an ikea side table ($19) and an acrylic mirror stuck on the wall from Bunnings / Hardware store, with a dish, jug and bucket.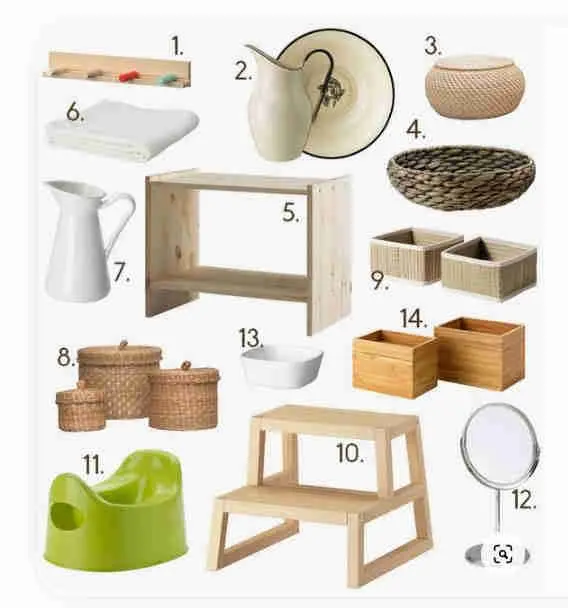 A great blog by Eltern von Mars about Montessori feat Ikea – in the bathroom, lists a bunch of items that can be purchased from Ikea to create a beautiful, fully functional and accessible self care station.
In conclusion it really isn't about having a perfect little self-care station setup just as long as your child is able to access the sink to be able to be involved in the process of self-care independently this is what practical life is all about!