Written by: Heather White
On January 6,1907, Dr. Maria Montessori opened Casa dei Bambini–Italian for "Children's House." Casa was a childcare center in San Lorenzo, a poor, inner-city district of Rome where Dr. Montessori would work with some of the area's most disadvantaged, and previously unschooled, children.
As an Italian educator, physician, and scientist, Dr. Montessori used her skill of scientific observation, watching as the children engaged in hands-on learning experiences, learned to prepare meals and clean their environment, exhibited peaceful behavior, and developed periods of deep concentration. Her observations led her to create a classroom environment to foster the children's natural desire to learn and to design unique learning materials for them, many of which are still being used today.
The news of the school's success began to travel. The innovative Montessori Method began to draw the attention of educators who were eager to learn it. Over the course of the next 50 years, Dr. Montessori continued expanding the Montessori influence. She turned her attention to exploring the needs of elementary-aged and adolescent children. She wrote books, gave lectures, and helped found organizations such as the Association Montessori Internationale (AMI) and the American Montessori Society (AMS)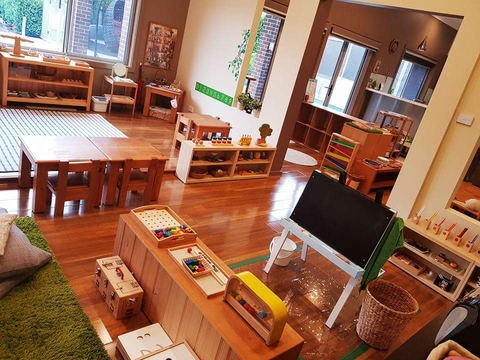 More than 100 years have now passed and Montessori continues to grow at a tremendous rate. Dr. Montessori's beginnings in a single schoolroom have flourished into an educational pedagogy practiced in thousands of Montessori schools worldwide. Furthermore, families all over the world have adopted Montessori as a way of life in their homes, embracing the ideology as a way to follow their children and recognize their unique value as contributing members of the home environment. Following in Dr. Montessori's footsteps, we are all united in our quest to make the world a better place by raising confident, compassionate, and capable children. After all, as Dr. Maria Montessori said, "Within the child lies the fate of the future."