– Written by The Montessori-Minded Mom & edited by Sylvia Arotin
How many times have you thought about implementing Montessori and thought…I can't afford it! Or you just can't stay on budget and end up splurging on Montessori materials that your child may not even end up using? If so…you're not alone, for some reason people think Montessori = expensive materials and spaces. You see these picture perfect IG posts, perfectly organized shelves with luxurious handcrafted wooden toys and of course a bookshelf full of Montessori hardbacks and think there's just no way can I afford that!
So the question remains can you actually practice the Montessori Method whilst on a budget? The answer is a HUGE YES!
Be warned, though—what you lack in prefabricated Montessori materials must be replaced with equal amounts of creativity and flexibility.
For those of you concerned about achieving an effective Montessori environment/curriculum without breaking the bank, here are a few encouraging facts about the Montessori approach along with some practical examples of how you can make Montessori work in your home without incurring exorbitant expenses in the process.
Fact #1: The Heart of Montessori Is Intangible
With Montessori, it's easy to become consumed with "stuff"! Perhaps that's because Montessori materials are so appealing, even for adults. Remember these things do not embody the spirit or the philosophy of Montessori, though. Even if your budget is limitless, it's important to make the distinction between Montessori materials and the Montessori method. While Montessori materials can certainly make life easier by complementing the educational philosophy, they are no substitute for the lifestyle and mindset of authentic Montessori.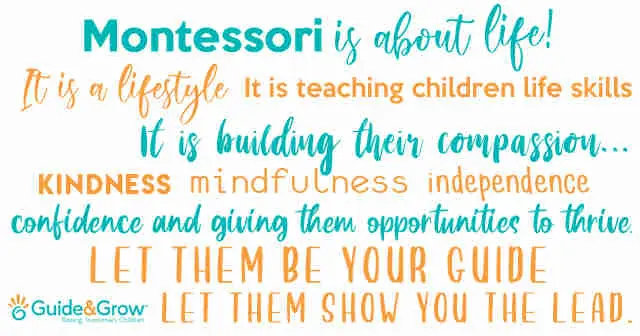 Don't place pressure on yourselves to have and do all these Montessori 'activities' it is not about that, it is about being present, it is about being conscious, it is about love and giving your children the best that you can given your circumstances so go easy on yourself. Your child is the benchmark for themselves…each child is unique, each child will shine in different areas of development and each child has their own interests…
Follow the child and they will guide you.
Fact #2: Freedom to Explore Costs Nothing
Freedom is one of the ideas most integral to the philosophy of Montessori. To be effective, the pedagogy insists that children be allowed to explore their environments and take control over their own learning. The good news for parents concerned with the affordability of Montessori is that freedom is, well, free. That is, there's no monetary cost associated with giving your child educational autonomy.
With Montessori, the need for free exploration permeates every aspect of the approach. This includes children's engagement with the materials in their environment. Thus, these materials are only as good as the sense of independence kids feel when interacting with them.
Fact #3: Minimalism Promotes Calm
The "less is more" philosophy is an important concept in Montessori, and this is good news for parents who want to practice the method without breaking the bank. In the Montessori community, it is well-known that clutter creates chaos and causes children to become over-stimulated and thus, overwhelmed. These are conditions that deter learning, which is why many Montessori parents practice toy rotation.
On the other hand, having fewer materials that are nicely organized in a clean, aesthetically pleasing prepared environment promotes a calming sensation for children and gives them the mental space to learn new concepts and acquire new skills.
The takeaway here for parents worried about the expense of Montessori is that investing in a small number of quality learning materials is actually preferable to purchasing loads of different toys and manipulatives.
Fact #4: The Practical Life Curriculum
Another key component of Montessori is the "practical life curriculum." This approach to child development emphasizes a child's participation in daily life activities such as cooking, gardening, cleaning, and dressing oneself, for instance. It is meant to foster children's independence while simultaneously helping them to hone fine motor skills.
Practical life activities represent a key element of the Montessori lifestyle, and they cost very little to implement. By their very nature, these activities require materials you likely already have on hand. While many parents choose to purchase child-size materials like brooms, gardening tools, and pitchers, for instance, these are rarely necessary and in many cases, can be substituted for other common household items. For instance, a spoon could be used as a shovel in the garden, and a drinking cup could make a child-sized pitcher.
This is where your creativity comes in!
Tips for Securing Montessori Materials on A Budget
While many Montessori concepts can be implemented without special materials, these tools do have their place within a Montessori learning environment. Fortunately, there are ways to find appropriate materials while staying on your budget. Watch video here
Get Crafty
There are a surprising number of Montessori materials that can be made using basic craft supplies. With a little know-how (or perhaps some online research), you can construct simple toys and sensory materials from supplies like paper trays, straws, carpet samples, wooden dowels, and more. Join our FB Group for more DIY ideas.
Shop Thrift Stores and Consignment Shops
Children's thrift stores and consignment shops are not just for clothing. Many of them carry second-hand toys as well. Scour those in your area, and you may find some gently used Montessori-specific toys and materials to implement at home. At the very least, you'll discover something that can be repurposed for your needs.
Make Use of Libraries
Remember those beautiful Montessori hardbacks we referenced at the beginning of this post? Well, if you don't have room in your budget to splurge on a $75 reference book, you can take the cheaper route and borrow this very same book from your local library for free. And libraries aren't just for books. Many public libraries also lend out educational materials for children, including some Montessori toys. Toy libraries are also becoming popular, allowing parents to check out playthings for their little ones at no charge or for a reasonable monthly fee, depending on the organization. You can do a local Google /FB search to find out if your area has something like this available.
If you're thinking about adopting a Montessori approach in your home, or if you're just starting out, keep in mind that a Montessori lifestyle doesn't have to be expensive to be effective and enjoyable for you and your kids. With some creativity and grace, you can absolutely practice this pedagogy in an affordable way!