Written by: Heather White
As Montessori grows in popularity, the number of toys and activities that are marketed as "Montessori" to boost sales has sky-rocketed. For parents and caregivers who are new to their Montessori journey, there is a lot to learn and this type of false advertising can make it even more difficult to implement the Method with fidelity – but we're here to help! We've compiled a list of items that are often marketed as being "Montessori" and have provided ideas for how they can be used in Montessori aligned ways.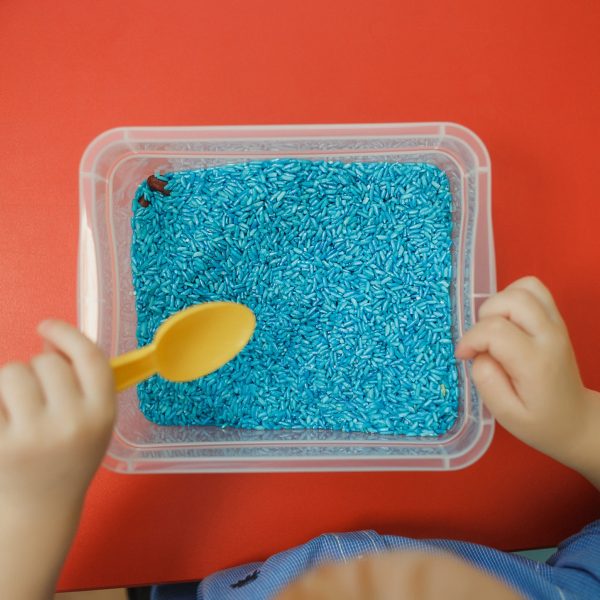 Sensory bins are the opposite of Dr. Maria Montessori's teachings. She noted the importance of allowing children to use their senses to explore their world. The Montessori approach naturally provides opportunities for children to use their senses for exploration through practical life, baking, art, outdoor experiences, and the use of natural materials including wool, silk, metal, ceramic, glass, and wood. With that being said, you can set up sensory bins in a Montessori aligned way, designing them as a transferring activity from one side to another using a jug, for example. You may have the child transfer liquid or solids such as rice or beans. This provides a specific purpose for the child with an explicit beginning and end. Avoid overstimulation and distraction by refraining from adding unnecessary random objects such as letters or dinosaurs into the bins as these objects take away from the focus of the activity.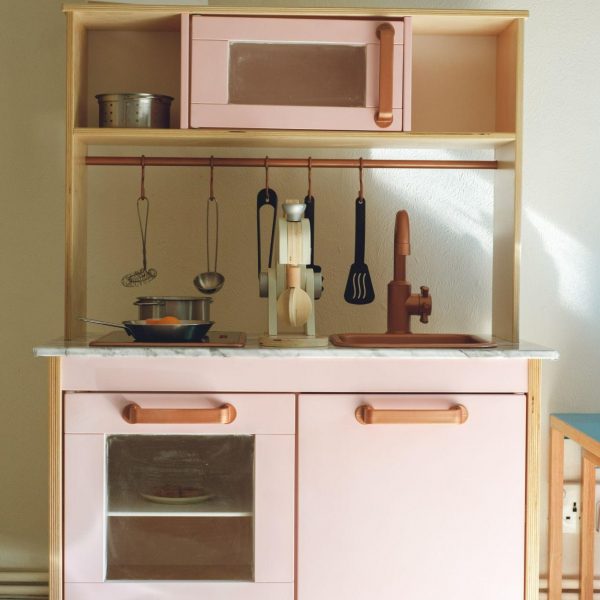 Although there is nothing wrong with imaginative play, when used for this purpose, play kitchens would not be considered aligned with Montessori. Traditionally, a play kitchen would be replaced in a classroom setting with purposeful work including food preparation and dishwashing. However, as a trend gaining in popularity has shown, many play kitchens can be converted into functional kitchens, providing children opportunities for independent exploration and learning. By removing unnecessary play elements such as the stove top and the microwave and adding functional elements including running water and a cutting board, young children are able to independently engage in activities including washing and slicing fruit, filling a water glass, and washing their hands. Using the cabinets for storage of the child's eating tools and utensils including cups, plates, bowls, forks, spoons, and placemats also allows them independent access to prepare snacks and set the table for themselves for meals. 
**It is important to mention that you do not need a functional kitchen to practice Montessori at home; you can use what you have including a low shelf or cupboard and a stool to provide independent access to these items and experiences in the kitchen environment.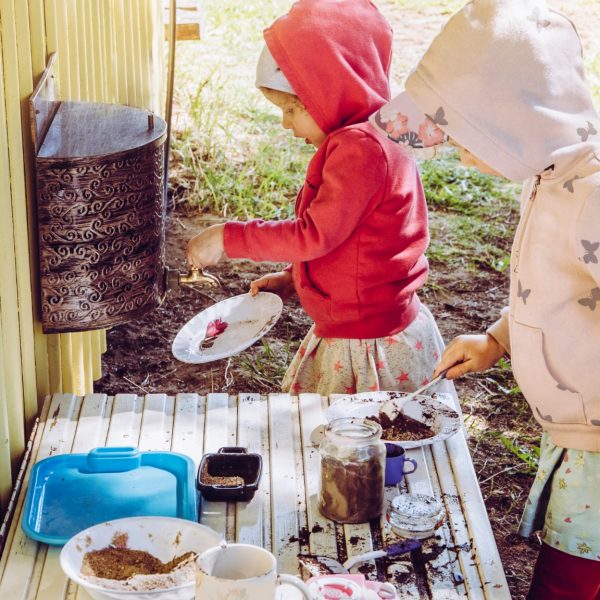 A mud kitchen is a prepared outdoor environment that allows children to explore and interact with nature. Typically, mud kitchens are very open ended and are set up similarly to indoor play kitchens, inspiring imaginative play using natural elements like dirt and leaves. As mentioned for play kitchens, mud kitchens can also be converted into functional spaces where children can engage in practical life tasks outdoors. Providing access to water and gardening utensils including child-size rakes, shovels, and watering cans can allow children to use this space in a Montessori aligned way. In this space, they might water plants, harvest fruits and vegetables in a home garden, and compost. Including some bins, a washboard, and a clothing line can also allow a child to wash and dry clothing by hand. Some families may even have a chicken coop or greenhouse where the child can tend to plants and gather fresh eggs for food preparation!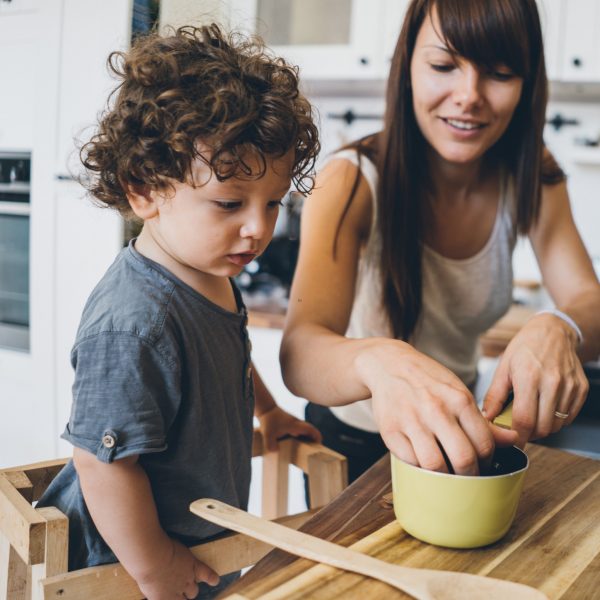 Learning towers are another item that are not traditionally Montessori in that Dr. Montessori herself did not design them. However, they have become a very popular addition to many Montessori homes as they provide independent access to kitchen countertops and bathroom sinks in a safe way. Young children are able to enter and exit a learning tower without needing assistance and can then assist with cooking and cleaning at the adult's height in the kitchen and are able to wash their hands and brush their teeth without support in the bathroom. 
**It is important to note that learning towers are often a big investment. Using a step stool or a chair are other more budget-friendly alternatives that serve the same purpose.
Pikler triangles / Wobble boards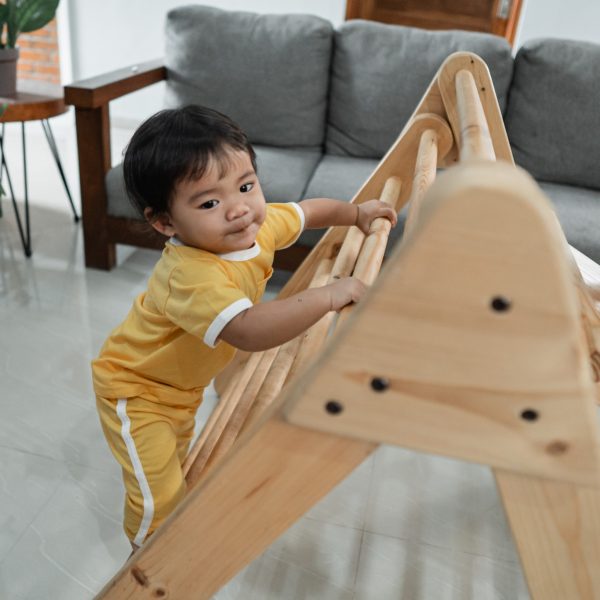 Young children often spend a great deal of their time engaging in activities to build and develop their gross motor skills. In just a short period of time, little ones learn to use their fingers, hands, arms, and legs for purposeful work, learning to grasp objects, scoot, crawl, walk, run, and even climb! You often find materials including small ladders, stairs, and large pieces of foam to crawl up and down in a Montessori environment prepared for babies and toddlers. The Pikler Triangle is one example of this type of equipment and while it (and all of the incredible accessory pieces that have been developed for it) are awesome, Dr. Maria Montessori did not create this item, Emmi Pikler did. Likewise, Dr. Montessori did not develop wobble boards. With that being said, there is nothing wrong with having a Pikler triangle or a wobble board in your home environment to facilitate your child's physical development, especially if you are following your child's interests. Indoor obstacle courses using couch cushions and pillows are a great way to meet this same need in a home environment! 
No one is 100% Montessori
We feel it is important to reiterate once again that no one is 100% Montessori – in fact, there is really no such thing! Even if you choose to introduce the items above to your child to use in a way that is not specifically aligned with Montessori, there is nothing wrong with incorporating them in your Montessori home, especially if you are following your child's interests. After all, observing their interests and meeting their needs is one of the foundational elements of the Montessori philosophy.