– Written by Sylvia Arotin
Your little one can sit…, crawl… and even walk. Now, let them RIDE with their FIRST BIKE EVER!!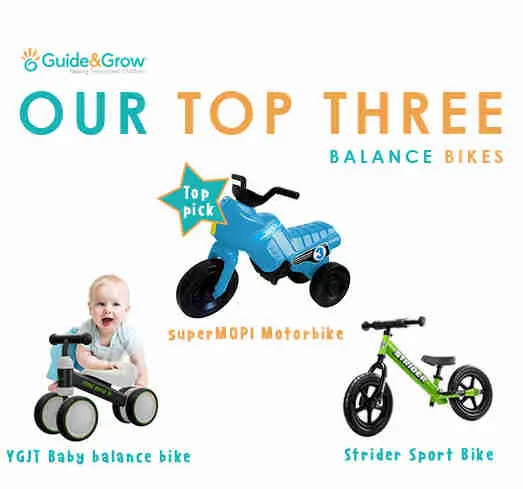 We discovered and found the BEST balance bikes on the market for your toddler and two's! From as young as 10 months old we found some of the most popular and sturdy balance bikes for your child to learn on with one of them being our TOP PICK!
We hope you find this list helpful and if you are lucky enough to get your hands on one of these Amazing products please send us your feedback or even a selfie ?as we would LOVE to see you enjoy them!
# 1 – YGJT Baby balance bike:
So, I haven't personally seen or tried this one but it looks like the perfect bike for little ones promoting stability with a solid base and the narrow frame and wide wheels are great for newly sitting and walking toddlers! This is one of my picks for a younger toddler who wants to start riding – definitely one for the early toddlers 10 months – 2 years. The handlebars can move side to side for control and it has a wide seat.
One of the best I've seen on the market and really looks like the perfect FIRST BIKE!
#2 – superMOPI Toddler motorbike ride-on:
The ultimate balance bike and MY TOP PICK!!!!! ? ❤
This is a great balance bike and it is seriously the lightest and most user friendly balance bike on the market PLUS it's weatherproof. It is brilliantly designed by the Europeans (of course!) and so light that children can easily carry it around! The design is brilliant, with a very wide seat to give children a feeling of security, handlebars that move with precision and ease as well as wheels that are narrow enough to give stability and ease of riding to riders. Their legs can easily push past and they can go so fast! This one is the right size to start a toddler around 15 months – 2 years (in my opinion up until 3 years). Then the XL (orange) is for taller children maybe 2+. (In my opinion 2+ all the way up to 5 years old.) This bike will last many years.
So we can't buy this product in Australia I have had it brought from Europe for me in suitcases + I would be willing pay $63 shipping to Australia JUST to get my hands on one! So $40-50 USD with FREE shipping is a steal! Every family needs one!
#3 – Strider Classic & Sport Toddler bikes
Strider Classic (18months – 3 years): This is one of the world's most popular balance bikes starting at 18 months specifically designed for young children to start learning to ride. It is sturdy and durable with lots of children enjoying this bike! The classic doesn't have padded handle bars or seat, still comes with the foot rest and adjustable seat – you will need a tool to do so! It is still a great bike if you feel that your child displays a good sense of balance and motor skill.
The Strider Sport (18months – 5 years): This is the most POPULAR of the range, coming with a padded seat and handlebars AND the seat can be adjusted without any tools! It is sturdy and durable with lots of children enjoying this bike! This is perfect for your child to develop their motor skills, balance and start their journey to riding – definitely one they will grow into so it's worth the spend!
We also have an Awesome blog about our Favourite Montessori toys for the Holidays, most of them under $25!!! Just in time for Christmas – Read the blog here
*This blog contains aff links.