Written by: Sylvia Arotin
Your picture perfect family date night out to a restaurant with your partner, a baby and a toddler went so smoothly. Everyone enjoyed a nice mess free meal over some chit chat…hold on…am I dreaming?
Sorry to shatter your dreams of having a night out for dinner with the family but someone needed to snap you back into reality. The story goes like this:
You're sitting at the table about to pull your hair out as your toddler refuses to sit in their high chair, has already shattered the salt shaker by throwing it on the floor, is crying because they want something they can't have, is pulling on the tablecloth, whilst you continuously bounce the little one on your lap (trying to keep them entertained) and wonder where the beep the food is because it feels like you have been waiting a lifetime and it's only been 10 minutes.
You've offered colouring in the menu, playing I spy, activity books, the iPad and you're running out of ideas. Meanwhile, your partner is looking at you thinking what do I do to help. You feel the eyes of the room on you and realise this is a disaster.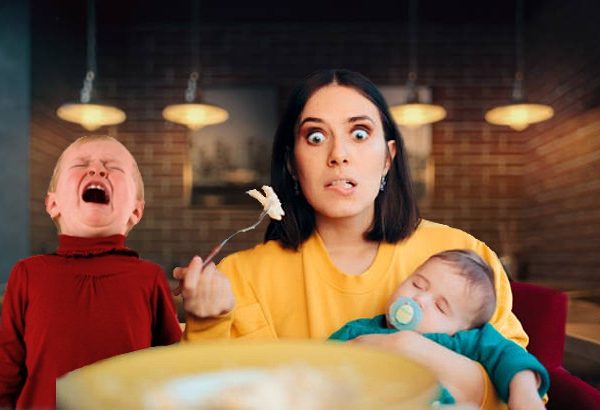 Whose idea was this?
You know what….I don't blame you, you just wanted a bit of normality in your life and that's fair enough. So how do you go about restaurants with a young family, in a Montessori way? Is there such a thing? 
In these types of situations we can take a lot from the Montessori method in how to navigate scenarios as the prepared adult, the view of the child and some strategies to help. So let's dive in!
The prepared adult – the role of the adult in Montessori is to be present in the child's life, physically, mentally, and emotionally to aid in their development. This also means to understand where the child is developmentally, knowing how to meet their needs and also understanding ourselves and where our expectations stem from. In this scenario, there is a HUGE expectation that a toddler is capable of sitting at the table for a good 40 minutes to an hour. Developmentally, that is A LOT to ask of a child so young as they do not have the brain maturity to be able to physically do that. They are at an age where they love to move, can sit for shorter periods of time and need a prepared environment that meets their needs. Yes, we view the child as capable and confident but the most important thing is that our expectations meet their needs. Their need to move and be engaged may not happen at a restaurant as we would've hoped.
Okay, so what can you do to help navigate this scenario? Here are some strategies that will help you understand how to get through a restaurant outing:
Lower your expectations

– Neither you nor your child can thrive until your expectations are compatible with their skill set. So start practicing this at home, sharing meals at the table, having a picnic outside, spending more time together during meals and having that culture in the home will help build those skills so your child is able to do that in an external environment.

Wait until they are ready

– There is no rush, maybe your child/children are not ready for a social situation like that, and that is okay. There is nothing wrong with them or you. Maybe try a picnic in the park first so they can get up and run around and come back, a bit more relaxed for all.

Call ahead of time and order the food

– This is a great one! If the restaurant allows for it, call ahead of time and order the food so that IT'S waiting for you rather than you waiting for it. This will cut down the waiting time.

Take a walk in between ordering and waiting

– So if you haven't called ahead, one parent may decide to take one of the children for a walk and come back whilst the food is being made. That way your child is engaged, moving and exploring!

Pick a place that has a kids' play area

if they have one – Some restaurants or casual dining places have a children's play area. This can be a great help when you're dining out with the family. I know what you are going to say – What if they JUST want to play and not eat? Refer to the next step.

Use your skills and acknowledge the child

– "You really, really want to play here. It looks like so much fun! These children have had their food first. We can come here after we eat. Let's go join mommy and have some food first. Would you like to skip or fly like a plane back to the table?" 

Order something that won't take forever

– Don't select the 45 minute, well-done steak for this outing. Choose something quicker; opt for a burger, pasta, salad, etc. This makes it easier to eat more quickly. 

Find an environment that will cater to young kids

– It is important to select the right environment and choose a space that suits children rather than trying to make them fit into a fine dining restaurant at 2 years old; there's plenty of time for that.

Activities and sticker books

– Even though I did mention activities and sticker books above,  they can actually be a saving grace at times. They are easily transportable and do not make a mess. You can even bring small pouches of age appropriate activities prepared in a drawstring bag. 

Try another time

– If you are in the midst of the outing and it's not going to plan, it's okay to wave the white flag, grab the food to go and continue on at home if need be. There will always be another time. You didn't fail as a parent, even though it may feel that way. 
So back to the dream of going out to dinner or lunch with the family, it can happen but just be mindful of some of the things to consider before making that decision to help you navigate through. Keep in mind the prepared adult, meeting the needs of the child, and selecting the environment that will help support them the most.